Shopping Basket
Your Basket is Empty
There was an error with PayPal
Click here to try again
Thank you for your business!
You should receive an order confirmation from Paypal shortly.
Exit Shopping Basket
Dr. Brenetia Ad​ams-Robinson

​Transformational Life Strategist / Author
"Ushering Transformation for Joy-Filled Living!"
| | |
| --- | --- |
| Posted on 28 January, 2021 at 23:50 | |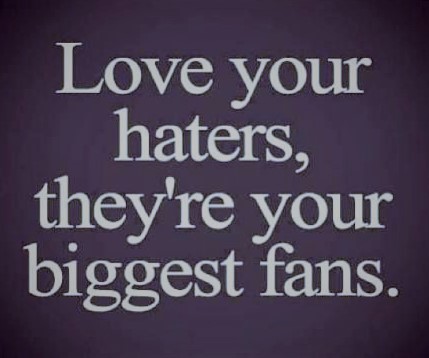 An unfortunate reality of life is that when you begin to see your success and dreams manifest into your reality, not everyone will be happy for you. You can have the kindest heart, be the most helpful of individuals, or be someone who is always there for someone in need… it does not matter. If you are blessed to see a measure of success in your life, you will have haters. Some you will be able to easily shake off and keep it moving. Others who matter to you, will likely pierce your heart when you realize they can't be happy for you.

A hater is someone who seeks to discredit you, devalue you or your achievement, downplay your accomplishments, or simply make you feel bad about who you are or what you do. Some will be blatant and openly aggressive; some will smile in your face while they have a dagger to stick in your back. Some will be reacting to a perceived hurt they want to blame you for; others are just mean for no reason. These individuals are generally fueled by jealousy, resentment, anger, envy, contempt, bitterness, or some level of a grudge. They have such broken issues in their spirit, they will be happier seeing you fail than they would be if they were to succeed. They are generally consumed by negativity.

So, what do you do when God opens the door to your dreams, and the haters try to creep in to disrupt your purpose journey? Whatever you do…don't let them get to you. They really aren't worth it. Below are 8 strategies to help you handle your haters and stay the course of your success.
1. Pray For Them (Matt 5:44). First, pray for them that God opens their eyes to what He has for them. It's hard to be jealous or envious of someone else, when you are busy walking in your own purpose. Second, ask God if there is anything you need to learn from them. Remember, every Judas has a purpose in your life. Listen, learn, and grow.

2. Expect It (John 15:18 ). When your success begins to happen, accept that not everyone will be happy for you. Some of your haters may be close to you, and their actions will be painful. Haters are quitters, spectators, and generally find something wrong with everything around them. They give up and have little staying power. As a result, when they see you moving, they can't handle your shine. Remember, they hated Jesus too. You will have to accept you can't change who or where they are.

3. Don't Take It Personally (Romans 1:29). When a person is jealous of you, know that it has nothing to do with you, and everything to do with where they are in their own journey. They're in a dark place, and just can't celebrate God's elevation of you. Be confident in yourself and celebrate your victories. You worked for this path of success; don't allow haters to take your joy, undermine your confidence, or make you doubt your purpose. Keep doing what you're doing; allow no one to stop your trajectory.

4. Ignore Haters – Not Worth Your Energy (Luke 21:9). Oftentimes, we give other people too much power in our spiritual atmosphere. If you don't have to entertain them in your life; then don't. Ignore their comments; avoid them and their negative energy. Stand on what you know God gave you to do, and let God take care of them. Don't hate back!

5. Address Haters Who Matter Directly (Leviticus 19:17). When ignoring someone is not an option, call haters out for their unacceptable behaviors or comments. This is when your authentic voice must be used and heard. Have a conversation to confront them about how their actions are impacting you and your relationship with then; then tell them what you will and will not entertain from them.

6. Set Boundaries (Luke 4:28 ). You don't have to entertain haters. You don't owe them your time, your energy, or space in your success journey. Use Jesus' example and know when to say enough. Define your boundaries to ensure haters are clear on what you will and will not allow. Eventually, they will get the message. They will change their approach, or stop approaching you at all. You truly do teach people how to treat you. Teach them that you expect to be respected; anything else is unacceptable.

7. Minimize Negative Interactions with Haters (2 Peter 3:17). If ignoring is not an option and they don't respond to direct conversation, then use your right to minimize interactions. It's your life; and you have a right to choose who you invite in. If you minimize your interactions with those who can't support you, it will reduce their ability to influence you, and eventually they will realize they have no power to undermine you.

8. If All Else Fails, Cut Them Off and Forgive (2 Timothy 3:1-5). If you entertain them, haters will zap your enthusiasm, your excitement, your energy, and may lead you down an ungodly path. You must let them know clearly that you don't appreciate the negativity. Clearly tell them to either change the behavior or the relationship will cease. Don't let haters lead you away from all God has for you.
Don't let you haters stop you from being the best you that you can be.  Be Bold, Audacious, and Courageous!  You are Unstoppable...so don't stop!
Categories: Pursuing Purpose, Personal Growth, Authentic Living
/